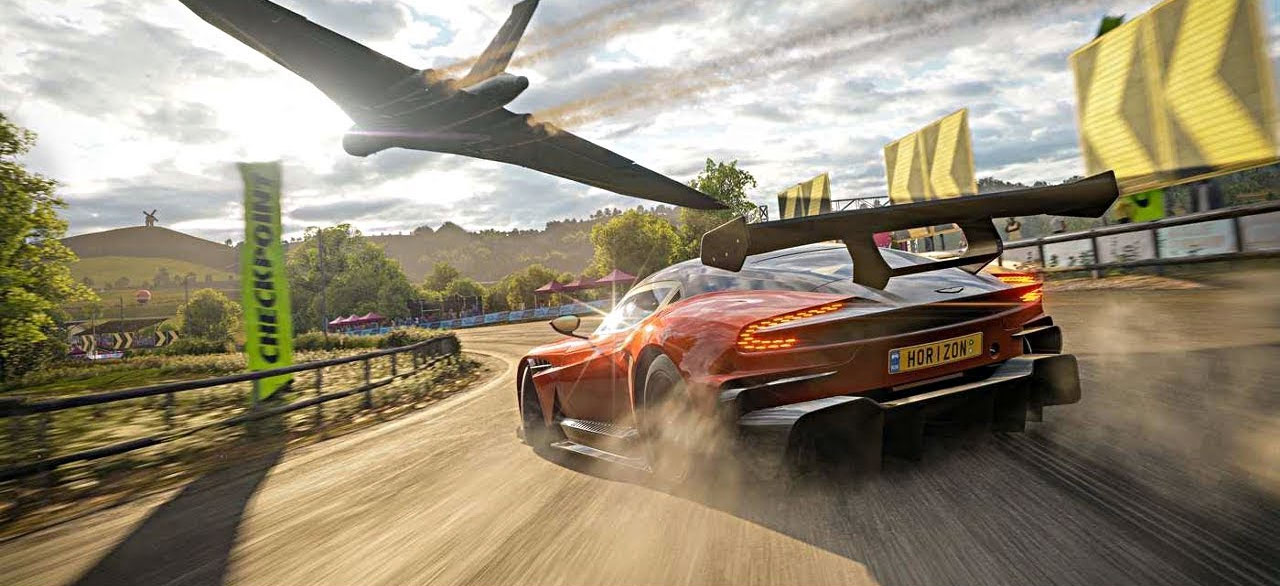 Forza Horizon 4 – lista samochodów, stacje radiowe, soundtrack
Playground Games ujawnia oczekiwane szczegóły dotyczące Forza Horizon 4. Oto oficjalna lista samochodów oraz wszystkie utwory, jakie usłyszycie w grze.
Koniec z nieoficjalnymi wieściami dotyczącymi aut w Forza Horizon 4. Teraz dysponujemy listą ujawnioną przez dewelopera, zatem to potwierdzone informacje z pierwszej ręki.
Forza Horizon 4 – samochody i OST
Poniżej znajdziecie tabelkę zawierającą ponad 450 samochodów, którymi pokierujemy w Forza Horizon 4 na premierę. Twórcy gry zaznaczają jednak, że to jeszcze nie wszystkie pojazdy. Dojdą do nich auta z Day One Car Pack oraz te, które będziemy mogli odblokować w grze w ramach Forza Edition. Póki co, deweloperzy trzymają dodatkowe konie mechaniczne w tajemnicy.
Szybkim samochodom będzie towarzyszyć szybka muzyka. Zaraz pod listą samochodów znajdziecie tabelkę z wszystkimi utworami. Podzielono je na cztery stacje radiowe, w sumie będzie do przesłuchania ponad 100 kawałków.
Przypominamy, że miejscem akcji dla Forza Horizon 4 będzie Wielka Brytania, którą odwiedzimy na konsolach Xbox One oraz komputerach PC z systemem Windows 10. Kiedy? Data premiery wyścigów została ustalona na 2 października 2018 roku.
Gra wrzuca nas do otwartego świata, w którym doświadczymy nie tylko zmiennych pór dnia oraz warunków pogodowych. Będą również zmienne pory roku! Wpłynie to na wszystkich graczy jednocześnie, którzy będą się znajdować na serwerach gry.
Deweloperzy zaznaczają, że Forza Horizon 4 zaoferuje rozgrywkę w płynności 60 klatek animacji na sekundę. Posiadacze konsol Xbox One X oraz komputerów PC skorzystają z rozdzielczości 4K oraz trybu HDR.
Forza Horizon 4 – lista samochodów oficjalnie
| Year | Make | Model |
| --- | --- | --- |
| 2017 | Abarth | 124 Spider |
| 2016 | Abarth | 695 Biposto |
| 1980 | Abarth | Fiat 131 |
| 1968 | Abarth | 595 esseesse |
| 2017 | Acura | NSX |
| 2002 | Acura | RSX Type-S |
| 2001 | Acura | Integra Type-R |
| 2017 | Alfa Romeo | Giulia Quadrifoglio |
| 2014 | Alfa Romeo | 4C |
| 2007 | Alfa Romeo | 8C Competizione |
| 1968 | Alfa Romeo | 33 Stradale |
| 1965 | Alfa Romeo | Giulia Sprint GTA Stradale |
| 1965 | Alfa Romeo | Giulia TZ2 |
| 1934 | Alfa Romeo | P3 |
| 2015 | Alumi Craft | Class 10 Race Car |
| 1973 | AMC | Gremlin X |
| 1971 | AMC | Javelin AMX |
| 2554 | AMG Transport Dynamics | M12S Warthog CST |
| 2016 | Ariel | Nomad |
| 2013 | Ariel | Atom 500 V8 |
| 2012 | Ascari | KZ1R |
| 2017 | Aston Martin | DB11 |
| 2016 | Aston Martin | Vulcan |
| 2016 | Aston Martin | Vantage GT12 |
| 2013 | Aston Martin | V12 Vantage S |
| 2012 | Aston Martin | Vanquish |
| 2010 | Aston Martin | One-77 |
| 1964 | Aston Martin | DB5 |
| 1960 | Aston Martin | DB4GT Zagato |
| 1958 | Aston Martin | DBR1 |
| 2016 | Audi | R8 V10 plus |
| 2015 | Audi | S1 |
| 2015 | Audi | RS 6 Avant |
| 2015 | Audi | TTS Coupé |
| 2013 | Audi | RS 4 Avant |
| 2013 | Audi | RS 7 Sportback |
| 2013 | Audi | R8 Coupé V10 plus 5.2 FSI quattro |
| 2011 | Audi | RS 3 Sportback |
| 2011 | Audi | RS 5 Coupé |
| 2010 | Audi | TT RS Coupé |
| 2009 | Audi | RS 6 |
| 2006 | Audi | RS 4 |
| 2003 | Audi | RS 6 |
| 2001 | Audi | RS 4 Avant |
| 1995 | Audi | RS 2 Avant |
| 1986 | Audi | #2 Audi Sport quattro S1 |
| 1983 | Audi | Sport quattro |
| 1964 | Austin | FX4 Taxi |
| 1965 | Austin-Healey | 3000 MKIII |
| 1958 | Austin-Healey | Sprite MkI |
| 1939 | Auto Union | Type D |
| 2014 | BAC | Mono |
| 2017 | Bentley | Continental Supersports |
| 2016 | Bentley | Bentayga |
| 2013 | Bentley | Continental GT Speed |
| 1931 | Bentley | 4-1/2 Litre Supercharged |
| 1931 | Bentley | 8-Litre |
| 2016 | BMW | M2 Coupé |
| 2016 | BMW | M4 GTS |
| 2015 | BMW | i8 |
| 2015 | BMW | X6 M |
| 2014 | BMW | M4 Coupe |
| 2013 | BMW | M6 Coupe |
| 2012 | BMW | M5 |
| 2011 | BMW | Z4 sDrive35is |
| 2011 | BMW | X5 M |
| 2011 | BMW | 1 Series M Coupe |
| 2009 | BMW | M5 |
| 2008 | BMW | M3 |
| 2008 | BMW | Z4 M Coupe |
| 2005 | BMW | M3 |
| 2003 | BMW | M5 |
| 2002 | BMW | Z3 M Coupe |
| 1997 | BMW | M3 |
| 1995 | BMW | M5 |
| 1991 | BMW | M3 |
| 1988 | BMW | M5 |
| 1981 | BMW | M1 |
| 1973 | BMW | 2002 Turbo |
| 1957 | BMW | Isetta 300 Export |
| 2012 | Bowler | EXR S |
| 2018 | Bugatti | Chiron |
| 2011 | Bugatti | Veyron Super Sport |
| 1992 | Bugatti | EB110 Super Sport |
| 1926 | Bugatti | Type 35 C |
| 1987 | Buick | Regal GNX |
| 2016 | Cadillac | ATS-V |
| 2016 | Cadillac | CTS-V Sedan |
| 2013 | Cadillac | XTS Limousine |
| 2013 | Caterham | Superlight R500 |
| 2017 | Chevrolet | Camaro ZL1 |
| 2015 | Chevrolet | Corvette Z06 |
| 2015 | Chevrolet | Camaro Z/28 |
| 2009 | Chevrolet | Corvette ZR1 |
| 2002 | Chevrolet | Corvette Z06 |
| 1995 | Chevrolet | Corvette ZR-1 |
| 1988 | Chevrolet | Monte Carlo Super Sport |
| 1979 | Chevrolet | Camaro Z28 |
| 1970 | Chevrolet | Chevelle Super Sport 454 |
| 1970 | Chevrolet | Corvette ZR-1 |
| 1970 | Chevrolet | El Camino Super Sport 454 |
| 1970 | Chevrolet | Camaro Z28 |
| 1969 | Chevrolet | Camaro Super Sport Coupe |
| 1969 | Chevrolet | Nova Super Sport 396 |
| 1967 | Chevrolet | Corvette Stingray 427 |
| 1966 | Chevrolet | Nova Super Sport |
| 1964 | Chevrolet | Impala Super Sport 409 |
| 1960 | Chevrolet | Corvette |
| 1957 | Chevrolet | Bel Air |
| 1955 | Chevrolet | 150 Utility Sedan |
| 1953 | Chevrolet | Corvette |
| 1972 | Chrysler | VH Valiant Charger R/T E49 |
| 1970 | Datsun | 510 |
| 2018 | Dodge | Durango SRT |
| 2018 | Dodge | Challenger SRT Demon |
| 2016 | Dodge | Viper ACR |
| 2015 | Dodge | Challenger SRT Hellcat |
| 2015 | Dodge | Charger SRT Hellcat |
| 2008 | Dodge | Viper SRT10 ACR |
| 1999 | Dodge | Viper GTS ACR |
| 1970 | Dodge | Challenger R/T |
| 1969 | Dodge | Charger R/T |
| 1969 | Dodge | Charger Daytona HEMI |
| 1968 | Dodge | Dart HEMI Super Stock |
| 2013 | Donkervoort | D8 GTO |
| 2012 | Eagle | Speedster |
| 2015 | Ferrari | 488 GTB |
| 2015 | Ferrari | F12tdf |
| 2014 | Ferrari | California T |
| 2014 | Ferrari | FXX K |
| 2013 | Ferrari | LaFerrari |
| 2013 | Ferrari | 458 Speciale |
| 2012 | Ferrari | F12berlinetta |
| 2011 | Ferrari | FF |
| 2010 | Ferrari | 599XX |
| 2010 | Ferrari | 599 GTO |
| 2009 | Ferrari | 458 Italia |
| 2007 | Ferrari | 430 Scuderia |
| 2003 | Ferrari | 360 Challenge Stradale |
| 2002 | Ferrari | 575M Maranello |
| 2002 | Ferrari | Enzo Ferrari |
| 1996 | Ferrari | F50 GT |
| 1995 | Ferrari | F50 |
| 1994 | Ferrari | F355 Berlinetta |
| 1992 | Ferrari | 512 TR |
| 1989 | Ferrari | F40 Competizione |
| 1987 | Ferrari | F40 |
| 1984 | Ferrari | 288 GTO |
| 1969 | Ferrari | Dino 246 GT |
| 1968 | Ferrari | 365 GTB/4 |
| 1967 | Ferrari | #24 Ferrari Spa 330 P4 |
| 1963 | Ferrari | 250LM |
| 1962 | Ferrari | 250 GTO |
| 1962 | Ferrari | 250 GT Berlinetta Lusso |
| 1957 | Ferrari | 250 Testa Rossa |
| 1957 | Ferrari | 250 California |
| 1953 | Ferrari | 500 Mondial |
| 1948 | Ferrari | 166MM Barchetta |
| 1980 | FIAT | 124 Sport Spider |
| 2018 | Ford | Mustang GT |
| 2017 | Ford | Focus RS |
| 2017 | Ford | GT |
| 2017 | Ford | F-150 Raptor |
| 2017 | Ford | #14 Rahal Letterman Lanigan Racing GRC Fiesta |
| 2017 | Ford | M-Sport Fiesta RS |
| 2016 | Ford | Shelby GT350R |
| 2015 | Ford | Falcon GT F 351 |
| 2014 | Ford | Fiesta ST |
| 2014 | Ford | Ranger T6 Rally Raid |
| 2014 | Ford | #11 Rockstar F-150 Trophy Truck |
| 2014 | Ford | FPV Limited Edition Pursuit Ute |
| 2013 | Ford | Shelby GT500 |
| 2011 | Ford | Transit SuperSportVan |
| 2011 | Ford | F-150 SVT Raptor |
| 2010 | Ford | Crown Victoria Police Interceptor |
| 2009 | Ford | Focus RS |
| 2005 | Ford | GT |
| 2003 | Ford | Focus RS |
| 2000 | Ford | SVT Cobra R |
| 1993 | Ford | SVT Cobra R |
| 1992 | Ford | Escort RS Cosworth |
| 1987 | Ford | Sierra Cosworth RS500 |
| 1986 | Ford | Escort RS Turbo |
| 1985 | Ford | RS200 Evolution |
| 1981 | Ford | Fiesta XR2 |
| 1977 | Ford | Escort RS1800 |
| 1975 | Ford | Bronco |
| 1973 | Ford | XB Falcon GT |
| 1973 | Ford | Capri RS3100 |
| 1973 | Ford | Escort RS1600 |
| 1972 | Ford | Falcon XA GT-HO |
| 1971 | Ford | Mustang Mach 1 |
| 1969 | Ford | Mustang Boss 302 |
| 1966 | Ford | Lotus Cortina |
| 1966 | Ford | #2 GT40 Mk II Le Mans |
| 1965 | Ford | Mustang GT Coupe |
| 1964 | Ford | GT40 Mk I |
| 1959 | Ford | Anglia 105E |
| 1956 | Ford | F-100 |
| 1946 | Ford | Super Deluxe Station Wagon |
| 1940 | Ford | De Luxe Coupe |
| 1932 | Ford | De Luxe Five-Window Coupe |
| 1983 | GMC | Vandura G-1500 |
| 1985 | HDT | VK Commodore Group A |
| 2012 | Hennessey | Venom GT |
| 1977 | Holden | Torana A9X |
| 1974 | Holden | Sandman HQ panel van |
| 1973 | Holden | HQ Monaro GTS 350 |
| 2016 | Honda | Civic Type R |
| 2015 | Honda | Ridgeline Baja Trophy Truck |
| 2009 | Honda | S2000 CR |
| 2007 | Honda | Civic Type-R |
| 2005 | Honda | NSX-R |
| 2004 | Honda | Civic Type-R |
| 1997 | Honda | Civic Type R |
| 1992 | Honda | NSX-R |
| 1991 | Honda | CR-X SiR |
| 2016 | Hoonigan | GYMKHANA 9 Ford Focus RS RX |
| 1992 | Hoonigan | Mazda RX-7 Twerkstallion |
| 1991 | Hoonigan | Rauh-Welt Begriff Porsche 911 Turbo |
| 1978 | Hoonigan | Ford Escort RS1800 |
| 1972 | Hoonigan | Chevrolet Napalm Nova |
| 1965 | Hoonigan | Ford 'Hoonicorn' Mustang |
| 1955 | Hoonigan | Chevrolet Bel Air |
| 2014 | HSV | GEN-F GTS |
| 2014 | HSV | Limited Edition Gen-F GTS Maloo |
| 2006 | HUMMER | H1 Alpha |
| 2019 | Hyundai | Veloster N |
| 2015 | Infiniti | Q60 Concept |
| 2014 | Infiniti | Q50 Eau Rouge |
| 1970 | International | Scout 800A |
| 2017 | Jaguar | F-PACE S |
| 2016 | Jaguar | F-TYPE Project 7 |
| 2015 | Jaguar | F-TYPE R Coupé |
| 2015 | Jaguar | XFR-S |
| 2015 | Jaguar | XE-S |
| 2015 | Jaguar | XKR-S GT |
| 2012 | Jaguar | XKR-S |
| 1993 | Jaguar | XJ220 |
| 1990 | Jaguar | XJ-S |
| 1964 | Jaguar | Lightweight E-Type |
| 1961 | Jaguar | E-type S1 |
| 1959 | Jaguar | Mk II 3.8 |
| 1956 | Jaguar | D-Type |
| 1954 | Jaguar | XK120 SE |
| 2018 | Jeep | Grand Cherokee Trackhawk |
| 2016 | Jeep | Trailcat |
| 2014 | Jeep | Grand Cherokee SRT |
| 2012 | Jeep | Wrangler Rubicon |
| 1976 | Jeep | CJ5 Renegade |
| 2018 | Kia | Stinger |
| 2016 | Koenigsegg | Regera |
| 2015 | Koenigsegg | One:1 |
| 2011 | Koenigsegg | Agera |
| 2013 | KTM | X-Bow R |
| 2016 | Lamborghini | Centenario LP 770-4 |
| 2016 | Lamborghini | Aventador LP750-4 SV |
| 2014 | Lamborghini | Urus Concept |
| 2014 | Lamborghini | Huracán LP 610-4 |
| 2013 | Lamborghini | Veneno |
| 2012 | Lamborghini | Aventador LP700-4 |
| 2011 | Lamborghini | Gallardo LP 570-4 Superleggera |
| 2011 | Lamborghini | Sesto Elemento |
| 2010 | Lamborghini | Murciélago LP 670-4 SV |
| 2008 | Lamborghini | Reventón |
| 1997 | Lamborghini | Diablo SV |
| 1988 | Lamborghini | Countach LP5000 QV |
| 1986 | Lamborghini | LM 002 |
| 1967 | Lamborghini | Miura P400 |
| 1992 | Lancia | Delta HF Integrale EVO |
| 1986 | Lancia | Delta S4 |
| 1982 | Lancia | 037 Stradale |
| 1974 | Lancia | Stratos HF Stradale |
| 1968 | Lancia | Fulvia Coupé Rallye 1.6 HF |
| 2015 | Land Rover | Range Rover Sport SVR |
| 1997 | Land Rover | Defender 90 |
| 1973 | Land Rover | Range Rover |
| 1972 | Land Rover | Series III |
| 2014 | Local Motors | Rally Fighter |
| 1969 | Lola | #6 Penske Sunoco T70 MkIIIB |
| 2016 | Lotus | 3-Eleven |
| 2012 | Lotus | Exige S |
| 2011 | Lotus | Evora S |
| 2009 | Lotus | 2-Eleven |
| 2005 | Lotus | Elise 111S |
| 2002 | Lotus | Esprit V8 |
| 2000 | Lotus | 340R |
| 1997 | Lotus | Elise GT1 |
| 1971 | Lotus | Elan Sprint |
| 1956 | Lotus | Eleven |
| 2010 | Maserati | Gran Turismo S |
| 2004 | Maserati | MC12 |
| 1961 | Maserati | Tipo 61 Birdcage |
| 1957 | Maserati | 300 S |
| 1953 | Maserati | A6GCS/53 Pininfarina Berlinetta |
| 1939 | Maserati | 8CTF |
| 2016 | Mazda | MX-5 |
| 2013 | Mazda | MX-5 |
| 2011 | Mazda | RX-8 R3 |
| 2005 | Mazda | Mazdaspeed MX-5 |
| 1997 | Mazda | RX-7 |
| 1994 | Mazda | MX-5 Miata |
| 1990 | Mazda | Savanna RX-7 |
| 2018 | McLaren | 720s Coupé |
| 2018 | McLaren | Senna |
| 2015 | McLaren | 650S Coupe |
| 2015 | McLaren | 570S Coupé |
| 2013 | McLaren | P1 |
| 1997 | McLaren | F1 GT |
| 1993 | McLaren | F1 |
| 2017 | Mercedes-AMG | GT R |
| 2016 | Mercedes-AMG | C 63 S Coupé |
| 2015 | Mercedes-AMG | GT S |
| 2015 | Mercedes-Benz | #24 Tankpool24 Racing Truck |
| 2014 | Mercedes-Benz | Unimog U5023 |
| 2013 | Mercedes-Benz | G 65 AMG |
| 2013 | Mercedes-Benz | A 45 AMG |
| 2013 | Mercedes-Benz | E 63 AMG |
| 2012 | Mercedes-Benz | C 63 AMG Coupé Black Series |
| 2012 | Mercedes-Benz | SLK 55 AMG |
| 2011 | Mercedes-Benz | SLS AMG |
| 2009 | Mercedes-Benz | SL 65 AMG Black Series |
| 1998 | Mercedes-Benz | AMG CLK GTR |
| 1990 | Mercedes-Benz | 190E 2.5-16 Evolution II |
| 1955 | Mercedes-Benz | 300 SLR |
| 1954 | Mercedes-Benz | 300 SL Coupé |
| 1939 | Mercedes-Benz | W154 |
| 1949 | Mercury | Coupe |
| 1971 | Meyers | Manx |
| 1986 | MG | Metro 6R4 |
| 1966 | MG | MGB GT |
| 1958 | MG | MGA Twin-Cam |
| 2013 | MINI | X-Raid All4 Racing Countryman |
| 2012 | MINI | John Cooper Works GP |
| 2009 | MINI | John Cooper Works |
| 1965 | MINI | Cooper S |
| 2014 | Morgan | 3 Wheeler |
| 2010 | Morgan | Aero SuperSports |
| 1958 | Morris | Minor 1000 |
| 2017 | Nissan | GT-R |
| 2016 | Nissan | TITAN Warrior Concept |
| 2012 | Nissan | GT-R Black Edition |
| 2010 | Nissan | 370Z |
| 2003 | Nissan | Fairlady Z |
| 2002 | Nissan | Skyline GT-R V-Spec II |
| 2000 | Nissan | Silvia Spec-R |
| 1998 | Nissan | R390 |
| 1998 | Nissan | Silvia K's Aero |
| 1997 | Nissan | Skyline GT-R V-Spec |
| 1995 | Nissan | NISMO GT-R LM |
| 1994 | Nissan | Silvia K's |
| 1993 | Nissan | Skyline GT-R V-Spec |
| 1993 | Nissan | 240SX SE |
| 1992 | Nissan | Silvia CLUB K's |
| 1987 | Nissan | Skyline GTS-R (R31) |
| 1973 | Nissan | Skyline H/T 2000GT-R |
| 1971 | Nissan | Skyline 2000GT-R |
| 1969 | Nissan | Fairlady Z 432 |
| 2010 | Noble | M600 |
| 1969 | Oldsmobile | Hurst/Olds 442 |
| 1984 | Opel | Manta 400 |
| 2016 | Pagani | Huayra BC |
| 2012 | Pagani | Huayra |
| 2010 | Pagani | Zonda R |
| 2009 | Pagani | Zonda Cinque Roadster |
| 1962 | Peel | P50 |
| 2011 | Penhall | The Cholla |
| 1984 | Peugeot | 205 Turbo 16 |
| 1971 | Plymouth | Cuda 426 HEMI |
| 2015 | Polaris | RZR XP 1000 EPS |
| 1987 | Pontiac | Firebird Trans Am GTA |
| 1977 | Pontiac | Firebird Trans Am |
| 1973 | Pontiac | Firebird Trans Am SD-455 |
| 1969 | Pontiac | GTO Judge |
| 2018 | Porsche | Cayenne Turbo |
| 2018 | Porsche | 911 GT2 RS |
| 2017 | Porsche | Panamera Turbo |
| 2016 | Porsche | 911 GT3 RS |
| 2016 | Porsche | Cayman GT4 |
| 2015 | Porsche | Macan Turbo |
| 2015 | Porsche | Cayman GTS |
| 2014 | Porsche | 911 Turbo S |
| 2014 | Porsche | 918 Spyder |
| 2012 | Porsche | 911 GT2 RS |
| 2012 | Porsche | Cayenne Turbo |
| 2012 | Porsche | 911 GT3 RS 4.0 |
| 2004 | Porsche | 911 GT3 |
| 2003 | Porsche | Carrera GT |
| 1998 | Porsche | 911 GT1 Strassenversion |
| 1995 | Porsche | 911 GT2 |
| 1989 | Porsche | 944 Turbo |
| 1987 | Porsche | 959 |
| 1982 | Porsche | 911 Turbo 3.3 |
| 1973 | Porsche | 911 Carrera RS |
| 1971 | Porsche | #23 917/20 |
| 1960 | Porsche | 718 RS 60 |
| 1957 | Porsche | 356A Speedster |
| 1955 | Porsche | 550A Spyder |
| 2015 | Radical | RXC Turbo |
| 2017 | Ram | 2500 Power Wagon |
| 1972 | Reliant | Supervan III |
| 2013 | Renault | Clio R.S. 200 EDC |
| 2010 | Renault | Megane R.S. 250 |
| 2010 | Renault | Clio R.S. |
| 1993 | Renault | Clio Williams |
| 1980 | Renault | 5 Turbo |
| 1973 | Renault | Alpine A110 1600s |
| 2016 | RJ Anderson | #37 Polaris RZR-Rockstar Energy Pro 2 Truck |
| 2013 | SRT | Viper GTS |
| 2004 | Saleen | S7 |
| 1965 | Shelby | Cobra 427 S/C |
| 1965 | Shelby | Cobra Daytona Coupe |
| 2016 | Spania GTA | GTA Spano |
| 2016 | SUBARU | #199 WRX STI VT15r Rally Car |
| 2015 | SUBARU | WRX STI |
| 2013 | SUBARU | BRZ |
| 2011 | SUBARU | WRX STI |
| 2008 | SUBARU | Impreza WRX STI |
| 2005 | SUBARU | Impreza WRX STi |
| 2004 | SUBARU | Impreza WRX STi |
| 1998 | SUBARU | Impreza 22B STi |
| 1990 | SUBARU | Legacy RS |
| 1967 | Sunbeam | Tiger |
| 1979 | Talbot | Sunbeam Lotus |
| 2017 | Tamo | Racemo |
| 2014 | Terradyne | Gurkha LAPV |
| 2016 | Toyota | Land Cruiser Arctic Trucks AT37 |
| 2007 | Toyota | Hilux Arctic Trucks AT38 |
| 1993 | Toyota | #1 T100 Baja Truck |
| 1962 | Triumph | Spitfire |
| 2005 | TVR | Sagaris |
| 1998 | TVR | Cerbera Speed 12 |
| 2015 | Ultima | Evolution Coupe 1020 |
| 2016 | Vauxhall | Corsa VXR |
| 2012 | Vauxhall | Astra VXR |
| 2005 | Vauxhall | Monaro VXR |
| 1990 | Vauxhall | Lotus Carlton |
| 2017 | Volkswagen | #34 Volkswagen Andretti Rallycross Beetle |
| 2014 | Volkswagen | Global RallyCross Beetle |
| 2014 | Volkswagen | Golf R |
| 2011 | Volkswagen | Scirocco R |
| 2010 | Volkswagen | Golf R |
| 2008 | Volkswagen | Touareg R50 |
| 2003 | Volkswagen | Golf R32 |
| 1998 | Volkswagen | GTI VR6 Mk3 |
| 1995 | Volkswagen | Corrado VR6 |
| 1992 | Volkswagen | Golf Gti 16v Mk2 |
| 1983 | Volkswagen | Golf GTI |
| 1981 | Volkswagen | Scirocco S |
| 1970 | Volkswagen | #1107 Desert Dingo Racing Stock Bug |
| 1969 | Volkswagen | Class 5/1600 Baja Bug |
| 1963 | Volkswagen | Beetle |
| 1963 | Volkswagen | Type 2 De Luxe |
| 2016 | Volvo | Iron Knight |
| 2015 | Volvo | V60 Polestar |
| 1997 | Volvo | 850 R |
| 1983 | Volvo | 242 Turbo Evolution |
| 2016 | W Motors | Lykan HyperSport |
| 1945 | Willys | MB Jeep |
| 2016 | Zenvo | ST1 |
Forza Horizon 4 – soundtrack
| Radio Station | Song Title | Artist |
| --- | --- | --- |
| Bass Arena | Anyway | Armand Van Helden & A-Trak present Duck Sauce |
| Bass Arena | TopBrazil (Benny Benassi vs Constantin & Mazzz Dub Mix) | Fischerspooner |
| Bass Arena | 2 Much (Feat. 24hrs) | Flosstradamus |
| Bass Arena | Are We Still Young (feat. Jessi Mason) | Grant |
| Bass Arena | Find Yourself (Ashworth Remix) | Great Good Fine Ok & Before You Exit |
| Bass Arena | Do You Don't You | Haywyre |
| Bass Arena | State of Confusion (The Maurice Fulton remix) | Honey Dijon featuring Joi Cardwell |
| Bass Arena | Midnight City (Eric Prydz private remix) | M83 |
| Bass Arena | Fly | Marshmello |
| Bass Arena | Silence | Mashmello X Khalid |
| Bass Arena | Good Morning (Just Kiddin Remix) | Max Frost |
| Bass Arena | Kids – Soulwax Remix | MGMT |
| Bass Arena | 17 (In The Air Dub) | MK |
| Bass Arena | Blackwater featuring Ann Saunderson (full strings vocal mix) | Octave One |
| Bass Arena | Ottomatic | Oliver |
| Bass Arena | Just Let Me Dance – Maxxi Soundsystem Remix | Scandal |
| Bass Arena | Tunnel Vision | Subtact |
| Bass Arena | Zodiac | Sung |
| Bass Arena | The Man (Jacques Lu Cont Remix) | The Killers |
| Bass Arena | Ching Ching | Wolfgang Gartner |
| Block Party | Award Tour | A Tribe Called Quest |
| Block Party | Til It's Over | Anderson .Paak |
| Block Party | Runnin' | Bazanji |
| Block Party | Karaoke (feat. Lizzo) | Big Freedia |
| Block Party | Rent | Big Freedia |
| Block Party | Higher | Outasight |
| Block Party | Rebirth of Slick (Cool Like Dat) – 7 "Mix" | Digable Planets |
| Block Party | Michuul. | Duckwrth |
| Block Party | Bad Love | Earl St. Clair |
| Block Party | Don't Sweat the Technique (BL Socks remix) | Eric B. & Rakim |
| Block Party | I | Kendrick Lamar |
| Block Party | All The Stars (feat. Sza) | Kendrick Lamar |
| Block Party | Go Harder | Leo Soul |
| Block Party | Still Pushing | Ohana Bam |
| Block Party | Who Knows (Feat. Chronixx) | Protoje |
| Block Party | Don't Rush | Ric Wilson |
| Block Party | Flipping Cars | Shredders |
| Block Party | Rapper's Delight | The Sugarhill Gang |
| Block Party | Symphony (Feat. Teddy Jackson) | Towkio |
| Block Party | Wallflower | Young Futura |
| Hospital | City Light | Bop & Subwave |
| Hospital | Haltija | Etherwood |
| Hospital | Auckland Sunrise | Fred V & Grafix |
| Hospital | Offshore | Hugh Hardie |
| Hospital | Brave Face | Keeno |
| Hospital | While The World Sleeps | Keeno |
| Hospital | Hot Wheels | Kings Of The Rollers |
| Hospital | Mismatch | Krakota |
| Hospital | Stomp Your Soul | Lakeway |
| Hospital | Let The Senses Clear Your Mind | Logistics |
| Hospital | That's A Switch | London Elektricity |
| Hospital | Wading Through Crowds | Makoto |
| Hospital | Dawnbreaker | Metrik |
| Hospital | Veloce | Mitekiss |
| Hospital | The Sound of Your Smile | NU:Logic |
| Hospital | Empire | Polaris |
| Hospital | Lessons Learned | Polaris |
| Hospital | Rock da House | S.P.Y |
| Hospital | Caffeine | Urbandawn |
| Hospital | Loki | Whiney & Urbandawn |
| Hospital | Autumn | Fred V Grafix |
| Hospital | Spring | Fred V Grafix |
| Hospital | Summer | Fred V Grafix |
| Hospital | Winter | Fred V Grafix |
| Pulse | Shooting Star | Anna Yvette |
| Pulse | Colors | Beck |
| Pulse | Deadly Valentine | Charlotte Gainsbourg |
| Pulse | Never Say Die | CHVRCHES |
| Pulse | Fake It Til You Make It | Dreamers |
| Pulse | Silhouette | Goldroom |
| Pulse | Little of Your Love (BloodPop® Remix) | Haim |
| Pulse | Clap Your Hands (feat. Ava Max) | Le Youth |
| Pulse | Someday | Lliam + Latroit |
| Pulse | Be Good 2 Me | Luxxury |
| Pulse | Kim & Jesse | M83 |
| Pulse | MJ | Now, Now |
| Pulse | A Moment Apart | Odesza |
| Pulse | Late Night | Odesza |
| Pulse | Last Forever (feat. Sam Sparro) | Oliver |
| Pulse | Wind Shear | Pierce Fulton |
| Pulse | Feel Alright | Poolside |
| Pulse | Baby I'm A Queen | Sofi Tukker |
| Pulse | Ride or Die (Feat. Foster the People) [Big Gigantic remix] | The Knocks |
| Pulse | Build A Fire | Young Ejecta |
| Timeless | Spring (full) – The Four Seasons | Takako Nishizaki, Capella istropolitana, Stephen Gunzenhauser. Composed by Antonio Vivaldi |
| Timeless | Symphony No. 8 In F Major, OP. 93 – IV | Nicolaus Esterhazy Sinfonia, Bela Drahos. Composed by Ludwig Beethoven |
| Timeless | Clair De Lune | Klara Kormendi. Composed by Claude Debussy |
| Timeless | Peer Gynt – Suite No. 1, OP. 46 – IV. In the Hall of the Mountain King | Iceland Symphony Orchestra, Bjarte Engeset. Composed by Edvard Grieg |
| Timeless | Carmen Habanera | Slovak Philarmonic Orchestra, Anthony Bramal. Composed by Georges Bizet |
| Timeless | The Planets – Jupiter, the bringer of Jollity | CSR Symphony orschesta, Bratislava, Adrian Leaper. Composed by Gustav Holst |
| Timeless | Zadok the Priest | Thomas Tallis Chamger Choir, Royal Academy Consort, Jeremy Summerly. Composed by Handel |
| Timeless | Canon in D Major | Capella Istropolitana, Richard Edlinger. Composed by Johann Pachelbel |
| Timeless | Air on the G string | Capella Istropolitana, Jaroslav Dvorak. Composed by Bach |
| Timeless | Voices of Spring Waltz | Slovak Radio Symphony Orchestra, Ondrej Lenard. Composed by Johann Strauss II |
| Timeless | Symphony No 40 in G Minor, K 550 – 1. Molto Allegro | Cologne Chamber Orchestra, Helmut Bruhl-Muller. Composed by Mozart |
| Timeless | The Trials | Kazuma Jinnouchi |
| XS | No Wolf Like The Present | At The Drive-In |
| XS | I Don't Wanna Know | Bass Drum of Death |
| XS | Turn It Up | Bat Fangs |
| XS | Little Things Gone Wild | Black Rebel Motorcycle Club |
| XS | Pastel City | Dommengang |
| XS | Down to the Bottom | Dorothy |
| XS | Die Trying | Eyes Set to Kill |
| XS | La Dee Da | Foo Fighters |
| XS | Safari Song | Greta Van Fleet |
| XS | Six Wave Hold-Down | Hot Snakes |
| XS | Rise | I Prevail |
| XS | Over and Over and Over | Jack White |
| XS | Can't Be Ignored | Pennywise |
| XS | Deathwish | Red Sun Rising |
| XS | Satellite | Starset |
| XS | Run For Cover | The Killers |
| XS | Sister Cities | The Wonder Years |
| XS | Rapture | Underoath |
| XS | Headphones | Walk the Moon |
| XS | The Evil Has Landed | Queens of the Stone Age |